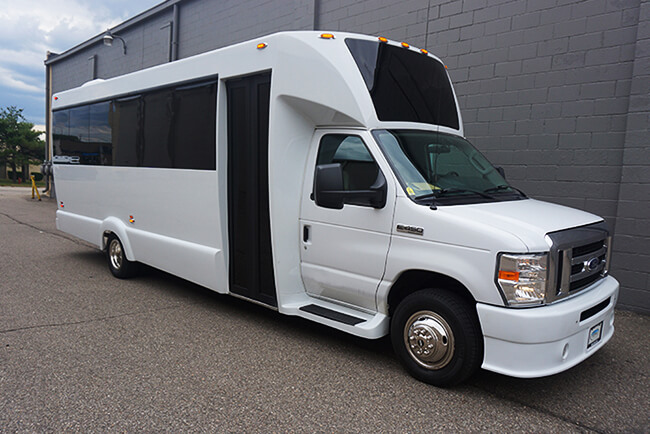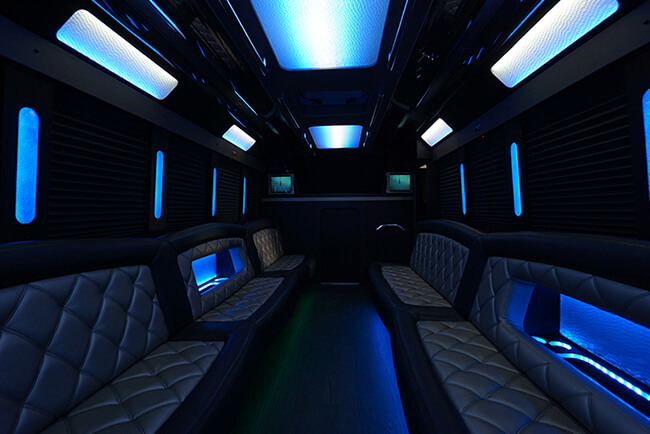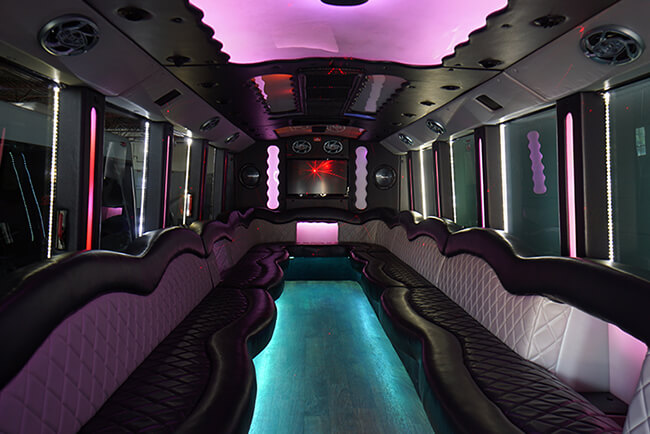 Party Buses in Detroit
When you hear Det Limousine, you probably only think about our limo service, but we actually offer much more than limousine rentals. We also provide top rated party bus rentals in the Metro Detroit area. As well as our limousine service, our party bus service has competitive pricing and many party bus options, so you can find the perfect vehicle for your special event. As you see on our vehicles page, we can even offer you party vans for small to medium size groups. Our limo buses are state of the art vehicles that, besides offering more room for passengers, offer a club atmosphere inside! Just imagine what a great time you will have with your friends.
It is ideal to book our party bus rental for a special occasion. For example, our customers love how they have so much fun on board our party buses when they rent them for their bachelor parties, birthday parties, sporting events, and wine tours. A luxury vehicle like a party bus will also fit a casino trip perfectly. When you want an outing with friends to become a special day, you must book our party bus rental Detroit. A good thing about our limo service and party bus service is that you can book them not only in Detroit, MI but also in Ann Arbor and other southeast Michigan cities.
A special addition for your special day
Party bus rentals are the perfect fun touch you will love to have at your special events. If you are planning a bachelorette party, bachelor party, prom night, or wedding day, you should consider our party bus rentals. They are one of the best transportation services for special occasions because you can get a designated driver, a luxury vehicle, and a private party at the same time. Unlike other vehicles, a limo bus has fun features like dance poles, hardwood flooring, and led colored lights. These elements give you the impression you are at a club party during your time on our party buses.
Limo buses have elegant exteriors, but if you want something more traditional for your wedding transportation, we suggest booking our limousine service. Nothing expresses more sophistication than a luxury limo. Let our limo service help you have an unforgettable arrival at your wedding ceremony. And because we know everyone wants the full wedding experience, we offer good deals for bachelor parties. Whether you go for a Metro Detroit limo service or a party bus service, our customers don't have to break the bank to defray their bachelor parties. Reserve now your party bus or limo in Detroit, MI, or Ann Arbor!
Discover the versatility of our party bus service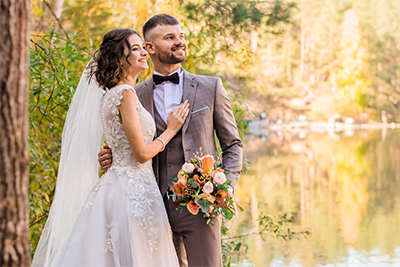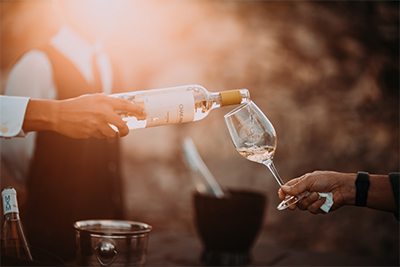 From sporting events to wine tours, this luxury transportation service can be used to enhance the experience of any event in Ann Arbor and Detroit, MI. A party bus is a perfect way to have a smooth ride through the city. You can use it as a limousine service to shuttle your crew from one point in Detroit to another. Party buses have leather seating and enough room so passengers can accommodate properly inside. Reserving a party bus for your sporting event is one of the best ideas you will have! A professional chauffeur will take your team to their match or training, and they will be on time and in one piece. As you can see, our party bus rental Detroit can work as a charter bus rental; thus, you can book one for almost any occasion when you need to shuttle a large group in the Metro Detroit area. Give us a call to book your party bus rental Detroit now! We are here for you absolutely any time you need us.
More than a transportation service in the Detroit area!
Our party bus and limo rentals are more than just luxury vehicles to transport you. We believe that a party bus or limo rental offers the opportunity to create beautiful moments with your loved ones. We believe that magic moments are not only the result of a spontaneous moment but can also be created by the conditions that allow the moment to be unforgettable. That's why we want to allow these moments to happen with our party bus and limo service. Get the party started with their incredible sound systems and flat screen TVs. You will have a wonderful time with your friends once you hop on one of our limos or party buses. And the best part is that you don't have to worry about who's driving when you drink because we have professional drivers who will take you home safely. Trust our party bus company to handle your event transportation in Ann Arbor, Royal Oak, Shelby Township, and Auburn Hills. Call us today and get free quotes on any of our services.